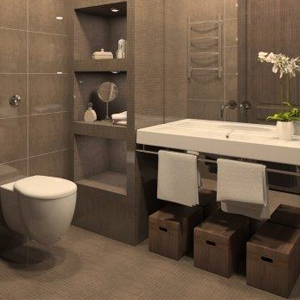 Bathrooms are such important rooms in a house, there constantly are innovative, new products introduced to the consumers for inclusion in these rooms. These products range from tapware to toilets along with lighting and heating options. Before you plan your next bathroom project, you should learn about the latest bathroom products on the market at present to ensure that the results are as up to date as possible. We offer some examples of them in the following facts.
Unique Toilets
Not only can you find floating toilets that install on the wall and off the floor, but you also can find models today that negate the need for toilet paper. The latter option sprays you clean from behind and can have various other options including warm seats, wand sprayers, automatic dryers and more depending upon the model that you select for your bathroom. On top of the toilet features, you can get an add-on product that lights up the toilet bowl in your choice of colours.
Highly Durable and Modern Tapware
Innovative, durable and modern tapware designs are available with brass construction, ceramic disc technology, chrome finishes or a combination of finishes such as chrome and matte black. Also, oversized square and rectangular shower heads are trending along with bathroom spouts that sheet water into the tub in a decorative manner.
Lighting Suggestions
At present, the latest in lighting options involves LED choices, sensor lights, dim switches and coloured mood lights. You can install whichever ones allow you sufficient illumination for traversing the bathroom, performing your grooming tasks and relaxing in the tub in an oasis-type atmosphere. Mix the different options in any manner that suits your goal.

The Latest Heating Options
Under-floor heating options are available today that warm the bathroom from the floor up to eliminate cold air being at the floor on your bare feet. Dedicated heat lamps focus heat on a specific spot. Multiple ones are necessary to heat an entire bathroom. The under-floor heating is a more suitable option for large bathrooms. Also, you can install heated towel racks in your bathroom to warm your bath towels. Dry off with a comfy warm towel instead of a cold one.
Floating Vanities

Vanities that float are all the rage this year for bathrooms. Instead of these vanities sitting right on the floor, they are up on the wall with a space between them and the floor. This provides a totally modern appearance.
For further facts about the latest bathroom products on the market today, consult with Creative Bathrooms and Interiors. We specialise in bathroom, laundry and kitchen renovations, and deliver innovative, high-quality results.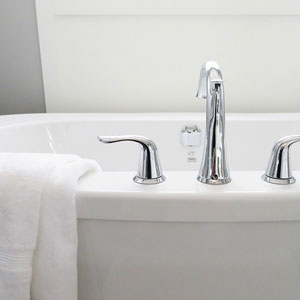 One of the hot topics this week has been Hannah and Clint's unfinished bathroom on Channel Nine's "The Block". After spending $61000.00 on the bathroom, what should have been probably the best bathroom revealed this week has unfortunately turned out the worst and not to mention the whole job has to be pulled out and start again from scratch.  Although all the bathroom products can be re-installed after the bathroom has been renovated again. What about the cost of the tiles and the tradespeople who have to be paid again. Beaumont tiles were generous to supply the tiles at no charge, in real life this rarely happens.
While most people come through the whole renovation experience enjoying the results, the biggest fear of many homeowners is that they will be among the unhappy group who suffer from over inflated costs, low-quality workmanship or an incomplete renovation.
Generally a bathroom renovation should take about 3 to 4 weeks till completion, a longer period should be allowed if custom cabinetry is to be manufactured.
To avoid the agony, time and aggravation of having to take legal action against your contractor and sometimes even not being repaid fully for your losses there are a few tips
Make sure you work with a licensed contractor and check for complaints online
Be wary of contractors who offer a price far below the quotes you receive from other contractors. Low cost sometimes means low quality or a lack of experience.
Find out if the work is being sub-contracted out as this can be a problem where the contractors you hire isn't the person who is actually working on your job. You may find that these other sub –contractors are unlicensed.
Do your research to find out about the experience a firm has with the type of job you require. Ask if it is possible to see bathrooms that they have completed for other clients
Ask your contractors for copies of their worker's compensation and liability insurance policies. Check your own insurance to find out what it will cover during the renovation.
Make sure your agreement has a balanced payment schedule with a maximum of one-third paid upfront and the other payments due when work milestones are completed rather than on a particular date.
Rest assured with your renovation, contact Creative Bathrooms and Interiors.  We specialise in bathroom, laundry and kitchen renovations, and offer innovative layout, colour and design service as well as delivering on workmanship and quality.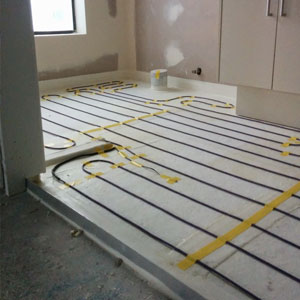 When remodeling a bathroom, you must consider what type of heat source will be effective and affordable in this room. The bathroom is the most important room in the house to keep warm and cozy since you are not fully clothed when taking a shower or bath. Radiant or underfloor heating is the most energy-efficient choice for this room of the house, but also it provides various other benefits that you need to consider. We list a sampling of these advantages in the following facts.
Heats the Room from the Floor
Instead of heating the room from the ceiling or upper areas of the bathroom, which leaves cold air at the floor, radiant heating warms the room from the floor. As a result, bare feet stay comfortably warm since there is only warm air in the room and next to the floor.

Comes in Different Types of Setups
You can select from two different types of radiant heating, namely water-based and electric systems. The first one consists of tubing that contains hot water and the second consists of plastic, heat-conducting mats that contain wiring. While both are energy-efficient, the electric version costs a bit more to operate than the water-based models.

Costs Far Less to Operate than Other Types of Heating
Underfloor heating costs far less to operate than forced-air and radiator heating system do use each day. In fact, you will save enough to invest in other parts of your home periodically to enhance it to suit your tastes. Power bills are high enough without using heating sources that are not cost-effective to operate.
Operates Independently from Other Heat Sources in the House
Another benefit of radiant heating is the fact that you can adjust the temperature separately from the rest of the house. The majority of the time you will want the bathroom warmer than the living room, bedrooms, kitchen or other rooms. It will be your oasis from the hectic world.

Underfloor Heating Is Quiet and Unobtrusive
Radiant or underfloor heating also is quiet and completely out of sight, unlike other types of heat sources. This type of system has no vents, radiators or noisy blowers. The bathroom will be more attractive and quiet as a result of this fact.
To learn further advantages of energy-efficient, bathroom underfloor heating, contact Creative Bathrooms and Interiors. We specialise in bathroom, laundry and kitchen renovations, and offer innovative layout, colour and design services. Our designers will work with you to ensure that your bathroom is all that you wish it to be along with the radiant heating source.