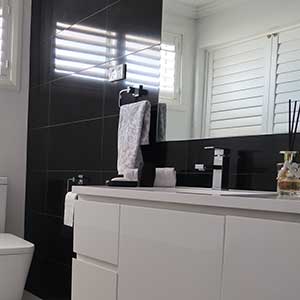 While attempting to provide your bathroom with a contemporary timeless appearance, it can be tricky to avoid the short-term trends that come along each year or so for bathrooms. If you choose these trends, they may be out of style in a year or two and this will cause your bathroom to be outdated in style instead of the lasting appeal timeless contemporary options would provide you. We are here to explain how to create a bathroom that will be in vogue for years without looking dated.

Use Trends for Enhancement Only Not for Focal Points
You can select timeless focal points that are strictly contemporary in style and enhance them with trendy elements. By doing this, you will not take away from the lasting appeal of the focal points. In comparison, when you choose trends as your main focus in the bathroom, you date the look, which will likely be out of style within two to three years.
When in Doubt, Choose the Most Contemporary Timeless Styles
At times, there is a fine line between timeless and trendy, and you can question which way you should go with your bathroom. Whenever this doubt hits, select the most timeless contemporary choice possible.
Keep the Bathroom Design Simple
In almost every case, a simple design scheme stays in vogue longer that an elaborate one does for a bathroom. Clean, uncomplicated lines for the tub, shower, tapware and even cabinets and countertops is best for timeless contemporary. Elaborate bathroom elements tend to be trendy and short-lived.
Neutral Colour Schemes Are Ideal for the Timeless Contemporary Style
Even though you may love the new trends in colours, you must ask if they have lasting power. On the other hand, neutral colour schemes typically are in bathrooms that have the contemporary timeless look that you desire.
Always Select Contemporary Decor According to Your Preferences
Let your preferences guide you in your choice of contemporary bathroom décor elements. Remember that you are the one who needs to look at them every day. You do not want to cringe each time you enter the room. The entire design scheme should show your personality and be timeless in nature.
For additional details about choosing trends versus contemporary timeless looks for bathrooms, schedule an appointment with Creative Bathrooms and Interiors. Our expertise helps us create an innovative, functional and timeless bathroom for your home. We will work with you through every stage of planning to ensure that the end results suit your preferences and needs. You can rely on us for both new constructions and remodels for bathrooms.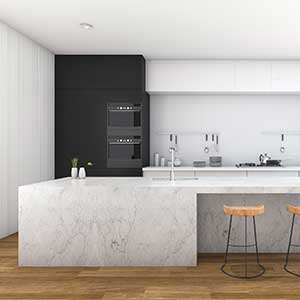 Since Caesarstone and other engineered reconstituted stones are durable and attractive for countertops and other home features, the manufacturers continually bringing out new colours and patterns of these products. By doing so, they capture and keep the attention of consumers on their products. To help you understand what is new in 2017 for these products, we list some of the new products that Casarstone and Essastone offer in this information since they are both leaders in the engineered stone industry.
New Products for Caesarstone Classico Colour Collection
Caesarstone has introduced some new colours of Classico products and certain ones have bolder veins in them that add a fresh flair to this brand. In the following, there is a list of the new colours that just came out this year:
• Rugged Concrete is an industrial-inspired, authentic design that accentuates various gradients of textural grey patterns and has a white haze patina along with a matte, rough finish.
• Cloudburst Concrete is a white-on-white design with a tonal cloud-like appearance. The surface of it is a low-reflective one that is a bit rough in texture.
• Intense White offers a mood-lifting brightness to any room that it is in and complements all types of surfaces from metallic to timber.
• Noble Grey has a light grey base with wide grey veins sweeping throughout it.
• Statuario Maximus is a marble-inspired creation with a soft white background and wide, medium grey veins.
• Georgian Bluffs contains subtle details in the grey background along with both grey and white veins.
• Tuscan Dawn offers a taupe background with light, creamy thick veins.

• White Attica is an intense offering that is inspired by natural marble. The white base is highlighted by vivid, dark grey intertwining veins.
• Nordic Loft is a new light, neutral taupe from Caesarstone that has a Scandinavian flair and it complements a variety of timber shades and material finishes.

• Urban is another new neutral with its warm, brown-grey tone with flecks of deeper shades to add dimension to this offering.
A New Colour for Essastone
Essastone offers a wide range of colours and patterns in its luxurious offerings inspired by natural stone with their latest addition being the following one:
• Unique Calacatta simulates the beauty of natural calacatta marble in an accurate fashion. It has a crisp white background with deep-grey mineral veins scored into the surface.
For further details about what is new in Caesarstone and other engineered reconstituted stones, contact Creative Bathrooms & Interiors. We create exquisite spaces in various rooms in your home in a quality fashion.