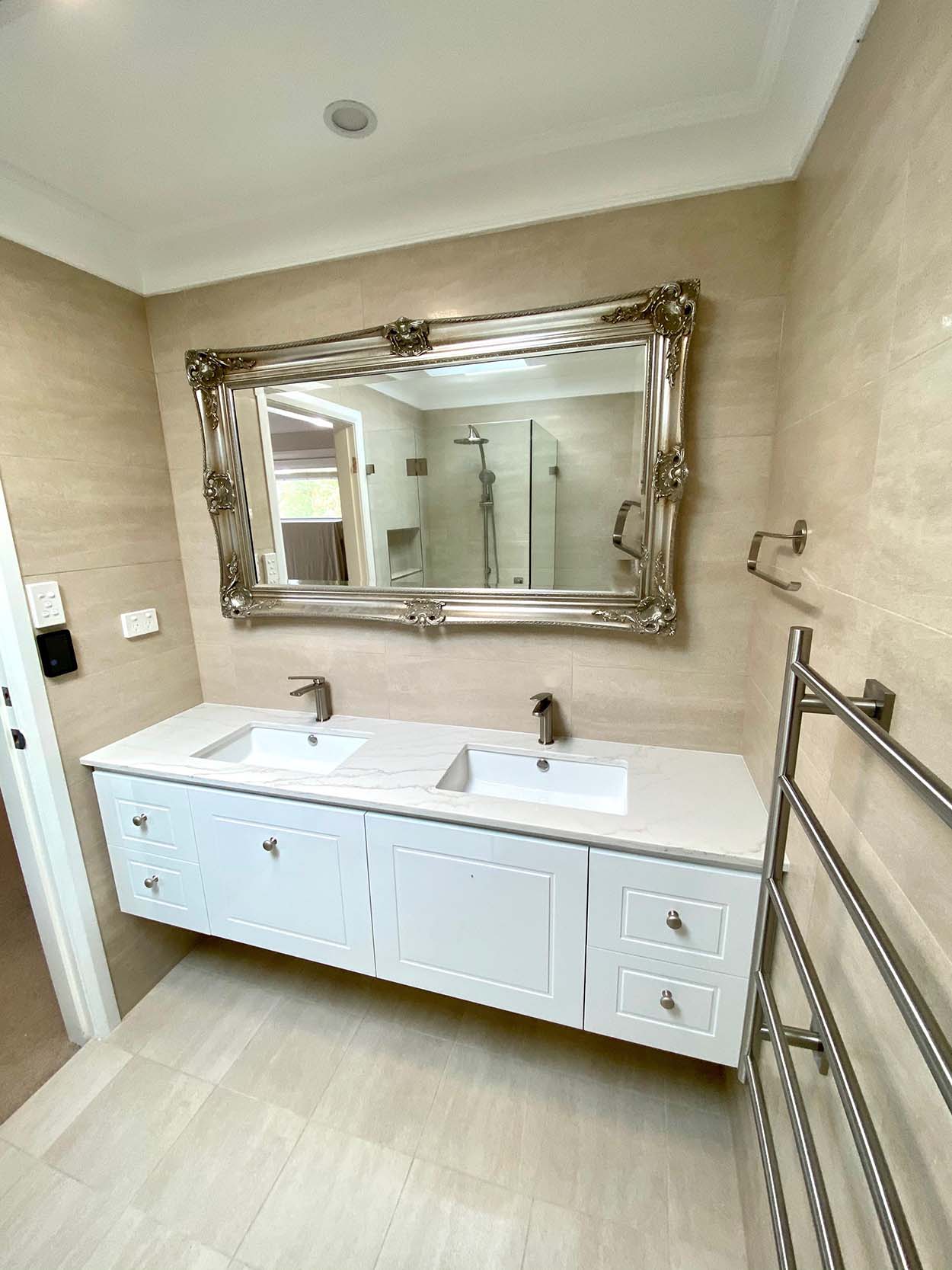 Your ensuite bathroom should be just as fashionable and attractive as your adjoining bedroom. Since these two rooms are designed as a unit, they should share a common design theme and mode of decor. If you engage the services of a professional interior designer, they will be well-prepared and accustomed to coordinating the design and furnishings of your bedroom and bath.
Yet if you are performing an update on these two connected rooms as a DIY project, you may need some advice concerning how to add elegance and style to your ensuite bathroom.

Four Innovative Ways to Include Elegance and Style in Your Ensuite Bathroom
Four creative and innovative ways to add elegance and style to your ensuite bathroom include the following:
1. Marble or Granite Countertop. By installing a stunning marble or granite countertop for your vanity console, you will add outstanding beauty and glamour to your ensuite bathroom interior. The lovely mixture of colours and textures of the natural stone along with its elegant veining will enhance your bath with the ultimate fashionable style. The pure essence of the stone will also lend a pleasing natural quality to the overall room design and decor.
2. Natural Stone Floor and Wall Tiling. If you choose attractive natural stone floor and wall tiling for your bathroom interior, you will add even more pure beauty to the room. Whether you select marble, granite or slate tiles, their natural essence will complement the vanity countertop. You may decide on dark floor tiles and lighter wall tiling in a complementary colour and shade. This will make your bath appear larger and more open.
3. Natural Wood Vanity Console and Shelving. When you add a lustrous natural wood vanity console base and matching wall-mounted shelves enhanced by elegant brass or chrome framework and hardware, your ensuite bath will gain new levels of fashion and flair.
By coordinating the wood with the woodwork in your adjoining bedroom, you will create a pleasing sense of continuity in your ensuite design. If you choose a slightly polished natural-wood finish, the true beauty of the natural timber hues will add soft, stylish highlights to your room decor.
4. Spa Bath and Rainforest Showerhead. By installing a contemporary spa bath and a spacious tiled shower with a rainforest showerhead, you and your spouse or partner can bathe and shower in the ultimate style and relaxing comfort. These elegant bathroom fixtures will add optimal elegance and allure to your overall bath design. If your shower and room wall tiling are the same or similar in design and colour to decorative tiling on your bedroom walls, your ensuite will be well coordinated, exhibiting excellent updated style.
By consulting our experts at Creative Bathrooms and Interiors located in Cronulla, NSW, you will gain valuable advice concerning ways to add elegance and style to your ensuite bathroom. Our experienced team will assist you in selecting the ideal elements of design and decor to create the fashionable bath of your dreams.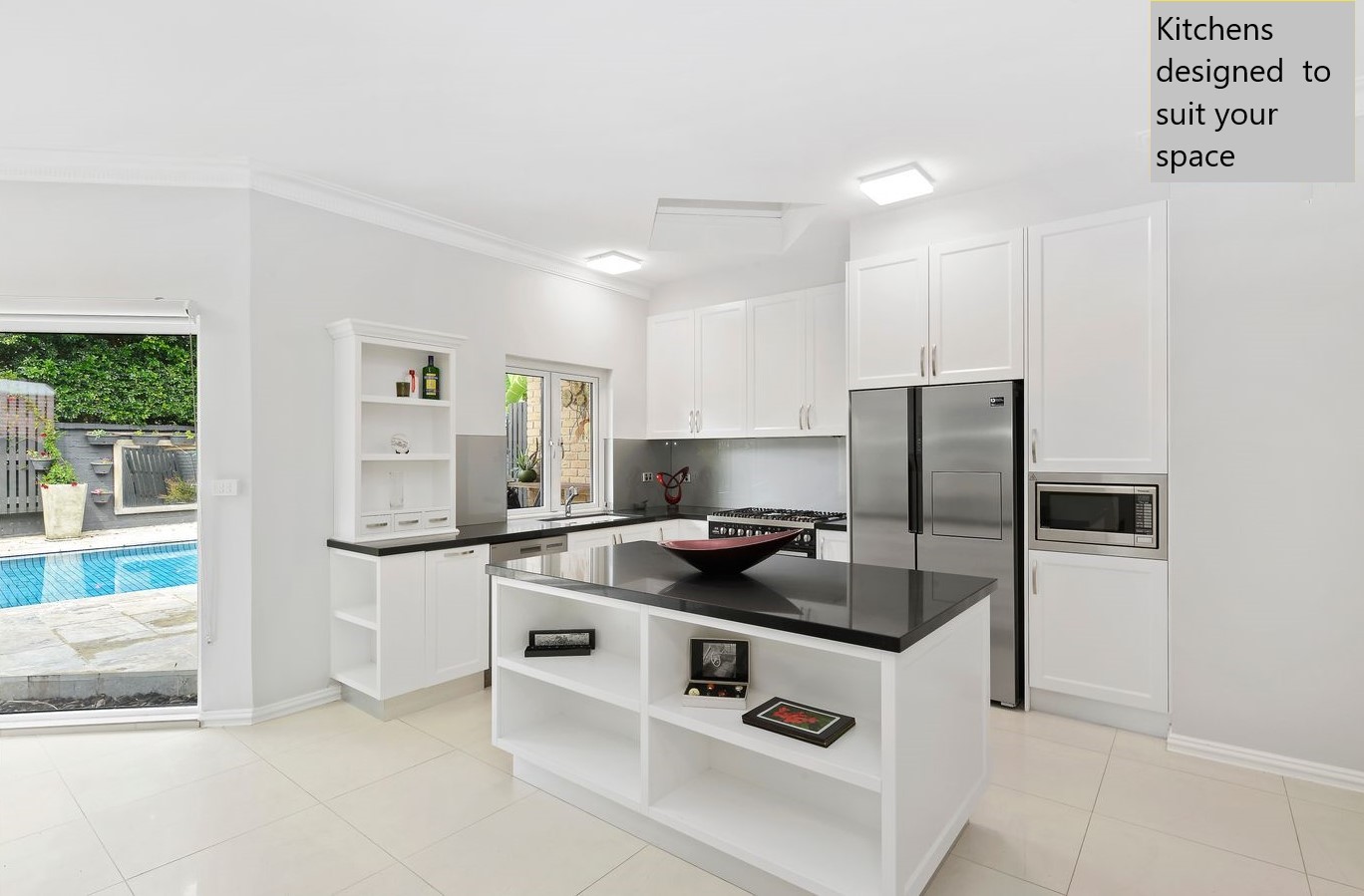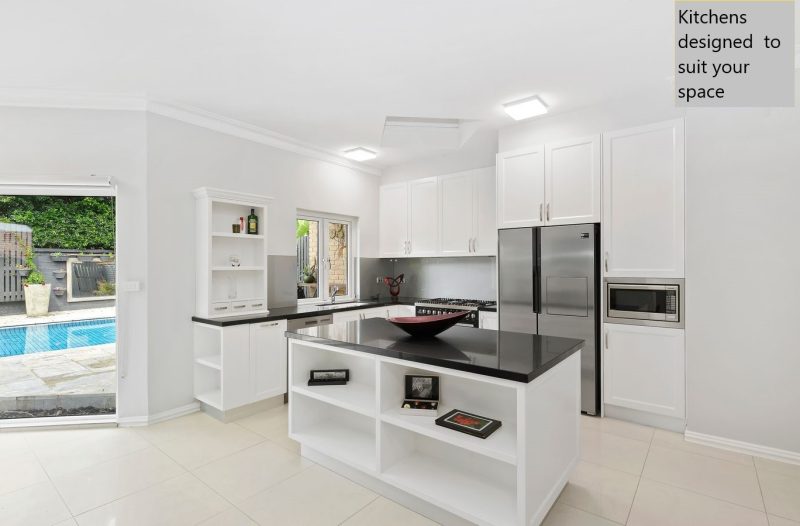 The layout plan for your new home kitchen must be customised to meet your specific preferences and needs. In your busy home life, you need a well-organised kitchen design that makes excellent practical use of space. At the same time, you want a kitchen interior that is beautiful and inspiring for preparing meals, snacks and party foods.
Without a doubt, the kitchen is the most popular gathering place for everyone in most homes today. As well as plenty of food prepping and cooking space, you also want adequate comfortable gathering space for family, friends and neighbours.
Whether you are preparing light snack foods for the kids, a holiday dinner or party refreshments, your household members or guests will want to gather around your kitchen bar counter. Everyone likes to enjoy lively conversation and tall drinks while food preparation is in progress.
Factors to Consider for Your New Home Kitchen Layout Plan
Important factors to consider when creating your new home kitchen layout plan include the following:
Kitchen Triangle.

The best kitchen designs include a clear, unobstructed triangle of walking space from your range to your refrigerator to your sink and back. Only when you have this pattern of movement available can you work to the best capacity in your kitchen.
All experienced building and design teams are familiar with this aspect of creating a top-quality kitchen with high degrees of functionality. Your contractor and interior designer can assist you with the best placement of your appliances and sink to produce your ideal triangle.
Storage Space.

Having enough storage space in your new kitchen is essential. Only when every item of cooking equipment, utensils and dinnerware as well as foods and beverages have designated storage spaces can you operate effectively in your kitchen. If your kitchen is spacious with plenty of wall space, you can install multiple rows of wall-mounted cabinets for storing china, glassware and cooking accessories.
You can also mount open shelving on a wall above your benchtop for easy access to seasonings and spices while preparing recipes and cooking. By adding a stunning island to your kitchen interior, you can include storage cupboards and shelving beneath its countertop for storing small kitchen appliances and cookbooks.
In your large kitchen, you can also add a tall standing cupboard to your furnishings to house pots, pans and large cooking vessels. If your kitchen interior is small, consider choosing wall-mounted cabinetry that swings outward from the wall when needed, swinging back into place against the wall after use.
Green Materials.

By deciding to use eco-friendly materials in your new kitchen construction, you can enjoy the natural beauty of richly grained older wood cabinetry while benefiting the environment. You can also delight in the stunning elegance of marble, granite or quartz for your benchtop and counters. You, your family and guests will all enjoy visiting your beautiful new kitchen interior while you prepare delicious foods.
By consulting our experienced professionals at Creative Bathrooms and Interiors located in Cronulla, NSW, you can obtain excellent advice for your new kitchen layout plan. Our experts will work closely with you to design and construct the ideal kitchen interior to completely satisfy and even surpass all of your desires, expectations and needs.