Bathroom Disasters
10 August 2017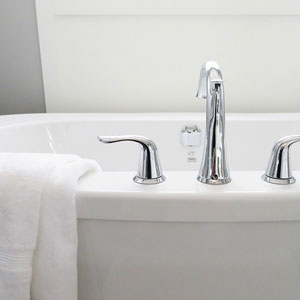 One of the hot topics this week has been Hannah and Clint's unfinished bathroom on Channel Nine's "The Block". After spending $61000.00 on the bathroom, what should have been probably the best bathroom revealed this week has unfortunately turned out the worst and not to mention the whole job has to be pulled out and start again from scratch.  Although all the bathroom products can be re-installed after the bathroom has been renovated again. What about the cost of the tiles and the tradespeople who have to be paid again. Beaumont tiles were generous to supply the tiles at no charge, in real life this rarely happens.
While most people come through the whole renovation experience enjoying the results, the biggest fear of many homeowners is that they will be among the unhappy group who suffer from over inflated costs, low-quality workmanship or an incomplete renovation.
Generally a bathroom renovation should take about 3 to 4 weeks till completion, a longer period should be allowed if custom cabinetry is to be manufactured.
To avoid the agony, time and aggravation of having to take legal action against your contractor and sometimes even not being repaid fully for your losses there are a few tips
Make sure you work with a licensed contractor and check for complaints online
Be wary of contractors who offer a price far below the quotes you receive from other contractors. Low cost sometimes means low quality or a lack of experience.
Find out if the work is being sub-contracted out as this can be a problem where the contractors you hire isn't the person who is actually working on your job. You may find that these other sub –contractors are unlicensed.
Do your research to find out about the experience a firm has with the type of job you require. Ask if it is possible to see bathrooms that they have completed for other clients
Ask your contractors for copies of their worker's compensation and liability insurance policies. Check your own insurance to find out what it will cover during the renovation.
Make sure your agreement has a balanced payment schedule with a maximum of one-third paid upfront and the other payments due when work milestones are completed rather than on a particular date.
Rest assured with your renovation, contact Creative Bathrooms and Interiors.  We specialise in bathroom, laundry and kitchen renovations, and offer innovative layout, colour and design service as well as delivering on workmanship and quality.
Optimized by: Netwizard SEO