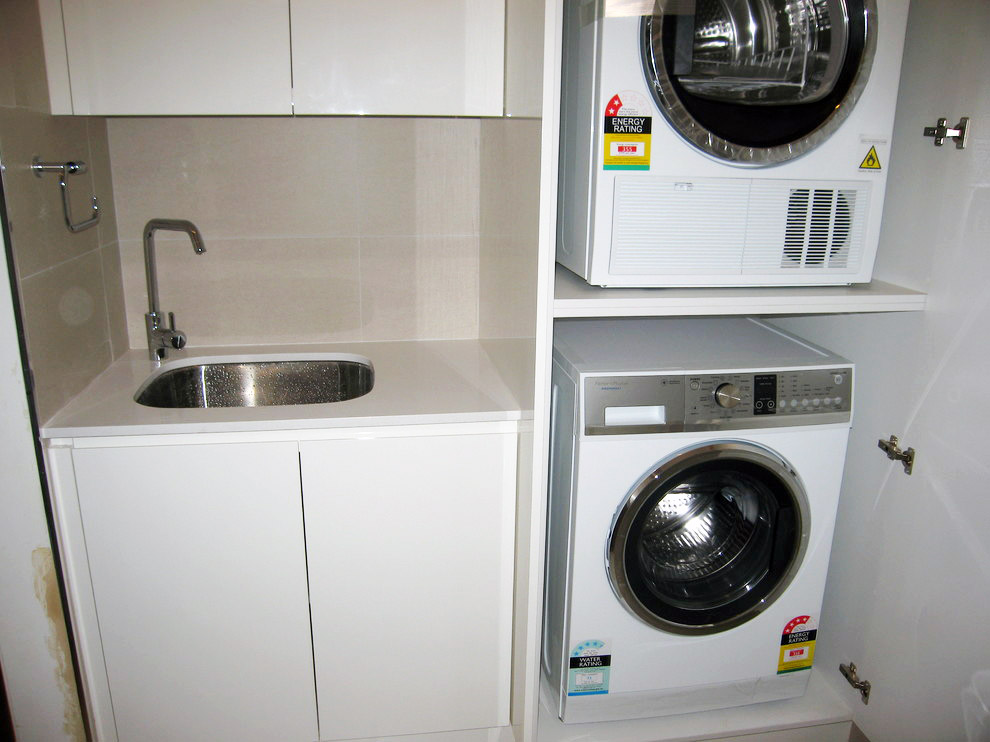 When planning to renovate your laundry room, it can be difficult to decide where to start. Yet if you think mainly in terms of creating a new utility room with a pleasing, practical design and optimal functionality, it becomes easier to devise a basic plan with definite steps. First, determine the best use of the room's space and the most convenient areas for performing each laundry room task. Make a list of the basic, everyday tasks that you and other household members perform in this commonly used space.

Then consider the items that must be stored in overhead cabinets, freestanding cupboards or cubbies and shelves beneath your countertops. In most homes today, it is essential to plan as much vertical storage as possible, saving floor space for easy access to appliances. If you need space for hanging clothes that cannot be dried in your new dryer, consider retractable clothing rails. These convenient rails can be extended outward from walls either manually or by automated controls as needed. Electric clothes hangers can also be convenient space savers.

Checklist and Essential Features for an Attractive and Functional Laundry Renovation

For excellent advice and renovation services for your laundry room makeover, you can consult our experts at Creative Bathrooms and Interiors located in Cronulla, NSW. Our experienced professionals will guide you in planning and completing the ultimate new interior design to completely satisfy and even surpass all of your preferences and needs for a stylish and functional utility room update.

A checklist including essential features for your update is as follows:

1. Select a Decor Style. When choosing the style of decor for your laundry room, consider aligning this room's interior with the style of your kitchen and bathroom. If these rooms display chic modern minimalist fixtures, monochrome tiling, sleek furnishings and appliances, you may want to refurbish your utility room with a similar mode of decor.

If, however, your kitchen is decorated with vintage patterned ceramic wall tiles, marble flooring and French country cabinetry with glass-pane doors, you may want a similar retro fitout for your laundry as well. If your bathroom is furnished with an antique pedestal sink and a deep bathtub with lion's feet supports, you may choose vintage handcrafted wall cabinets, a rustic freestanding cupboard and slate countertops for your utility room decor.

2. Measure Room Interior Space. Before making your final choices for appliance and furnishings purchases for your laundry update, ensure that you have measured all areas of the room interior carefully. Make sure that the styles in your favourite models for a new washer and dryer can fit easily into the designated areas of the room for convenient and optimal use.

It is especially important to ensure that your laundry room's height can accommodate the wall cabinets that you intend to install. You also want to be certain that the amount of open floor space allowed by your new interior design will be adequate for free movement around the room. Good ventilation is also essential for this room, so make sure that any windows can be accessed and opened easily. If your laundry does not have windows, quality ceiling vents and a new, well-installed vent for your dryer are essential.

3. Determine Room Layout. Review your planned room layout carefully with your designer, architect or contractor before any renovations start. Make sure that your desired placement of appliances, storage spaces, countertops and any rolling baskets or tables is best suited to your room's interior. Once you are convinced that you and your renovations team have designed the best possible layout for your new utility room, your innovative new laundry design and fitout project can begin.