Give Your Year 2022 A Fresh Start with These Latest Bathroom Design Ideas
10 January 2022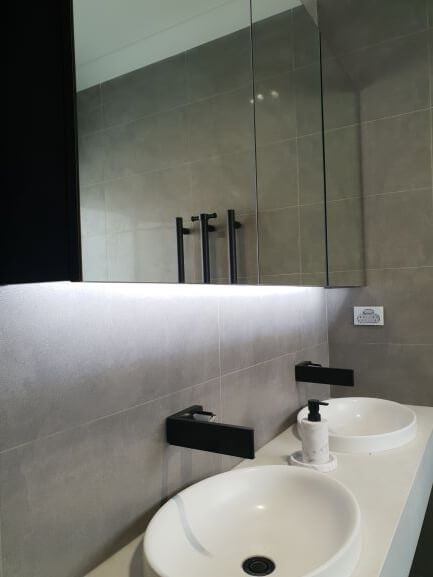 There are innovative new design trends for home bathrooms of varied sizes, shapes and styles for 2022. Trends in bath interior decor for the coming year focus on minimalist, practical and eco-friendly designs. Natural materials and artistic features are in high popularity, and water-saving, energy-efficient fixtures and tapware are in demand.
Clean, crisp lines and a mixture of neutral colours, wood, stone and concrete are design basics for 2022. Monochromatic colour combinations are featured for the new year, especially various shades of white and grey. Sleek storage cabinets that are wall-mounted are in vogue, as are stylish accessories. Attractive, simply decorated bathrooms with a large, open atmosphere are high in popularity.
Enjoy a Fresh Start to 2022 with Updated Bathroom Design and Decor
You can start the new year off with attractive updated home bathroom interior trends in design and decor, including the following:
Stylish Wall-Mounted Sink Vanities. Contemporary sink vanities that are wall-mounted offer sleek minimalist lines and simple styles of elegance. These wall console vanities include plenty of storage space. Yet they save valuable bathroom floor space and create an open, spacious bath atmosphere. These wall-mounted sink vanities also make bathroom cleaning and maintenance simple and easy.
Stunning Natural Stone Slabs. Beautiful natural stone slabs and panels for bathroom walls are trending strongly for 2022. Stone vanity tops and countertops are also in vogue. White or light grey marble with rich charcoal or black veining is popular for the new year. Rich cocoa and mocha tones in granite with chocolate or deep grey marbling effects are also frequently used for a chic bath style.
Glass, Metal and Pebble Decor. Black metal, polished brass and multi-hued pebbles complement and enhance rich natural wood surfaces. Glass and quartz decorative wall and counter insets brighten porcelain, concrete or slate tiling. Ceramic tile designs highlight large clay tiles, celebrating the natural allure of organic materials and patterns.
Plants as Living Art. Houseplants can add sensitive beauty to your bathroom decor. They are inexpensive and eco-friendly decorative features for today's bath interiors. Since the majority of houseplants grow and flourish in moist atmospheres, the bath is an ideal place for them. Whether you prefer simple green vines or exotic flowering plants, natural plant life can enliven your bathroom interior as vibrant, living works of art.
Intentional Imperfection. Trends in bathroom design for 2022 include a fashionable mixture of elegance and imperfections. The intent is to produce a stylish yet comfy, cozy room atmosphere. Even recently updated bath interiors offer a casual, lived-in quality. Basic minimalist furnishings are softened by simple storage features like wooden boxes, woven baskets and canvas totes. Wicker baskets and open wooden shelves display freshly folded towels and robes.
By consulting our experts at Creative Bathrooms and Interiors located in Cronulla, NSW, you can obtain excellent advice, ideas and plans for new 2022 bathroom designs. Our professional team will guide you in selecting the ideal combination of new design trends and innovative decor to update your bath for the new year with casual elegance and cozy comforts.
Optimized by: Netwizard SEO