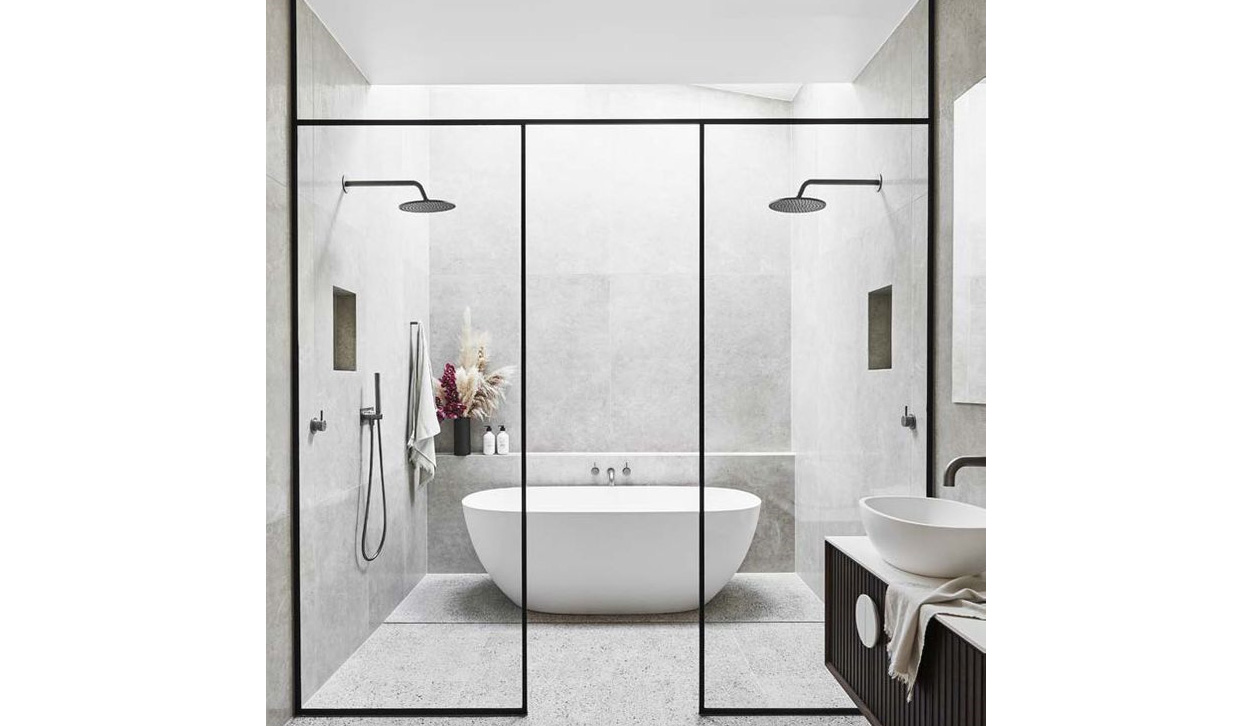 Designs for contemporary bathroom interiors for this year are focused on creating a space for calm relaxation and stress relief. Stylish heated towel racks, fashionable soap dispensers and luxurious yet streamlined showers are currently in vogue. Many new bath interiors also include revitalising equipment like hot tubs and soothing waterfall walls with plants. 

In today's fast-paced everyday world, your bathroom should be a place of quiet refuge. It should display an atmosphere and mode of decor that aligns perfectly with your idea of ultimate calm serenity. At the same time, the room should be quietly energising and rejuvenating in style, furnishings and ambiance. Your updated bathroom should be your place to recoup from stressful daily work, studies and activities and restore your vitality and sense of overall well-being.

By consulting our experienced professional design, building and installations team at Creative Bathrooms & Interiors, you can receive expert advice and services for producing ultimate quality bathroom designs. Our experts will guide you in selecting the ideal style, layout and colour choices for creating your beautiful new revitalised bath interior.  

Choosing a New Bathroom Design for Total Relaxation and Relief of Stress

You can create an updated bathroom design for complete relaxation and relief of stress by including features and elements like the following: 

• Emphasis on Natural Materials. This season's styles for bathroom interiors place strong emphasis on the use of marble, wood, ceramic tiles and other natural materials. For marble vanities and countertops, soothing white and grey tones are popular along with warmer rose-pink and golden-beige shades.

The use of simple, flowing linear styles combined with soft curves opens and enlarges bath interiors, promoting a sense of calm, sedate well-being. Richly grained natural woods and soft pastels in ceramic tile designs lend pure beauty and warmth to complement marble surfaces. Organic elegance and comfort are all-important in this year's bathroom decor.

• Balance of Design, Colour and Organic Elements. When modern design and organic elements are combined in bathroom interiors, a clean, uncluttered atmosphere of calm, pleasing glamour is created. By pairing sleek modern mirror designs with natural-finish or lightly polished woods, you can fashion a relaxing, casual yet charming room.

When a streamlined contemporary shower is surrounded by the warm colour tones of oak, maple or ash woods, the result is sleek yet compelling luxury. Ceramic tiling in appealing soft green, amber, marigold and cocoa shades surrounding a minimalist metal sink produces the visual quality of pleasing soft-hued simplicity. This soothing effect is created by joining such strongly contrasting elements.                             

• Spa Showers with Integrated Massage. One of the most popular additions to contemporary bathroom designs is a shower with integrated massage features. A few years ago, this element seemed to be a luxury to be included only in upscale home, condo and apartment bath interiors. Yet a hydro-massage installation is not as costly as it once seemed to be. 

Today, you can choose either two shower heads mounted on a stylish single rack or one large shower head enhanced by a separate hand-held showering device. Both offer a luxurious, revitalising spa shower experience as well as a fashionable look of elegance to enhance your updated bathroom decor.   

By adding a few dynamic yet calming materials, effects and items of decor, you can perform a highly appealing bathroom update. You can truly create a unique, stylish and inviting new bath interior with an ambiance of calm luxury to be enjoyed by your entire household.