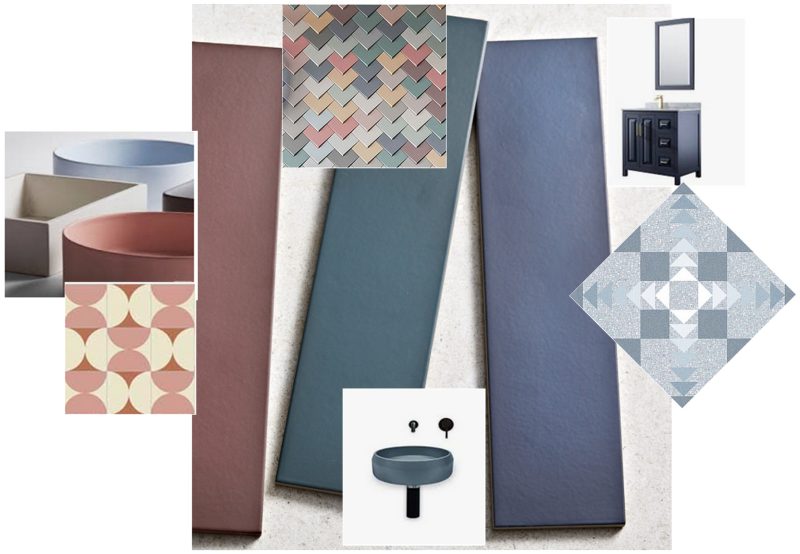 The colour of your bathroom tiles can really make an impact in a small bathroom. While neutral colours help keep the tone of a room calm and clean which really helps in smaller rooms, a monochrome colour scheme is a really easy style to achieve and it looks awesome in small settings.
Choose a neutral bathroom tile colour scheme and it'll provide the illusion of more space and as an added benefit will be a hit with potential buyers should you ever come to sell your home. Or you can use black and white metro tiles for small bathrooms. Their glossy finish allows light to be reflected around the room and they're so modish; with no sign of disappearing from the scene anytime soon. Below are new colours in tiles for your kitchen and bathroom renovation projects.
Terracotta Tiles
Terracotta is making a comeback in today's trend. It has a rustic old-world charm when it is used as a flooring material. The atmosphere is both rugged and subdued. It is also a good material when certain regional home styles are desired—terracotta is perfect match for Mexican, Mediterranean, or Southwest decors.
Such is a great choice for any rustic or natural settings, as well as log cabin style decors. It is popular in living rooms and for enclosed porches. Warmer than stone or glazed ceramic, terracotta is also perfect for a hearth-and-home or earth-tone decor.​ Terracotta tiles can be used in some limited outdoor applications, but only in climates that do not get regular freezing temperatures. In colder climates, water absorbed into the terracotta can freeze and crack the tiles.
Coast Tiles
Invite the soothing natural look into your home with the simple addition of these Coast Tiles. A series of large format stone effect designs, they have a realistic, varied finish; reminiscent of actual stone, and ideal for bringing an interior space to life. Made from durable porcelain, they're suitable for both walls and floors – allowing you to tick off two birds with one stone! All of the colours are neutral in colour, and will tie in with any colour scheme.
Fish Scale Mosaic Tiles
Dating back to the eighth century, fish scales are a staple of contemporary Moorish and Mediterranean style. The design, inspired by the glistening movement of the gently rolling sea, has become a popular glass mosaic tile used in creative ways for kitchens, baths and interior spaces.
Black Tempal Tiles
Trends in residential interiors have set a darker tone layered with emotion. Black and dark materials have recently been introduced to the most stylish urban kitchens and bathrooms in the form of stones like slate and travertine – tactile materials that possess an almost industrial presence. Black Tempal has soft mineral deposits that give rise to a delicate, light veil of warm whites across the slab, in contrast to the sturdy black charcoal base. Its textured, complex industrial composition reflects a captivating interpretation of industrial travertine, as its finish enhances the colour's depth while capturing warm granular highlights consumers can caress.
Know more about these new tile colours from Creative Bathrooms & Interiors. Together, we achieve the result of a beautifully remodelled Kitchen, Bathroom and Laundry that our clients will enjoy for a long time to come. As experienced professionals, we provide innovative design techniques and state-of-the-art products. Our clients have the peace of mind knowing that the completed project not only adds value but harmonizes with the rest of their home.
Coastal
Black Tempal
Fishscale Mosaic