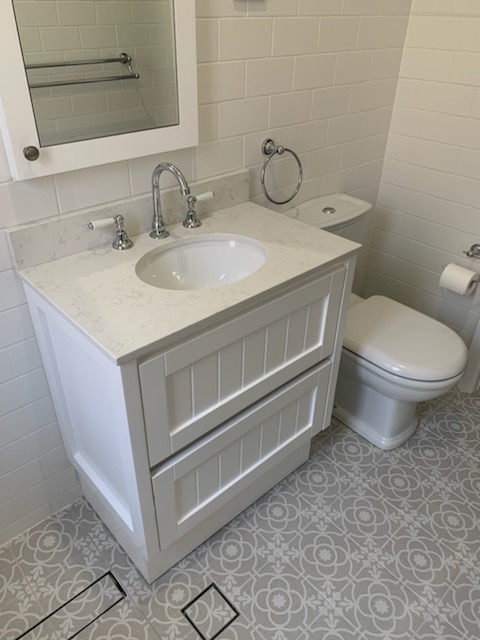 Deciding and picking out a bathroom tile is an art for some. For one, it is particularly difficult to choose a tile that would work best for your overall interior, all the while ensuring a comfortable ambiance for functionality without breaking the bank. The abundance of designs, shapes, colours and textures, it is likely for homeowners and designers alike to be overwhelmed with their many options.
In the past, bathroom tile options were appropriated to cater to the function the homeowner needs the most. Homeowners would choose bathroom tiles that are water resistant, durable and low maintenance, not giving much thought to how they would look like. But times have changed and bathroom tiles are now as visually pleasing as much as they are beneficial. Take a look at the latest bathroom tile design trends below to help you plan ahead of your bathroom renovation.
Marble Tile Flooring
Marble is a high-end material that is popular for its stunning luxurious beauty. Marble is a natural rock and each piece comes with its own unique colouring and style. The differences in veining and subtle colour shading results in an appealing overall look. Despite its connection to palaces and mansions; marble has gradually made its way into our homes, particularly the bathrooms.
Subway Tiles
Whether on the floor or the wall it's the perfect accent tile in any room! Either in soft subtle hues or bold contrasting colours the intricate patterns available for these tiles with lure you in and capture your heart. This trend is number one on our list because it's going to be, or should I say, it already is HUGE! Patterned tiles will continue to expand in popularity. From subway tiles to ceramic, it's safe to say that graphic pattern tiles can be anywhere and everywhere especially your bathroom.
Matte-Finish Tiles
The popularity of matte finish tiles follows us into the new year. They feature a soft but powerful beauty–style that does not get too overwhelming. An advantage of matte tiles is that they do not show smudges and water marks as easily as glossy tiles. This makes them ideal for the bathroom floor, especially in busy bathrooms. The low sheen makes them easier to maintain. When installing matte finish tiles make sure there is enough lighting, both natural and artificial, as these tiles are not known for reflecting light.
Metallic-Finish Tiles
Metallic is shiny and reflective, giving your bathroom a gorgeous yet edgy makeover. This modern look isn't quite there yet, but we expect to see it popping up more and more over the course of the next year.
Wood Plank Tiles
Wood planks are just beginning to make a splash in the marketplace. Non-traditional tile sizes have been getting popular for some time now. Most people are going larger overall, but with planking, you can customize the size. Most widths are 6″, but the lengths vary from 12″ to 48″ long. Allowing you to create ornate patterns such as herringbone.
Neutral Tiles
Contemporary designs make big use of neutral colours and this remains the case for 2020 bathroom tile trends. Bright colours such as blue, red and yellow are not commonplace in the bathroom and will not be the shining star anytime soon. Instead, homeowners are falling more in love with neutrals and especially nude neutrals such as grey and creams.