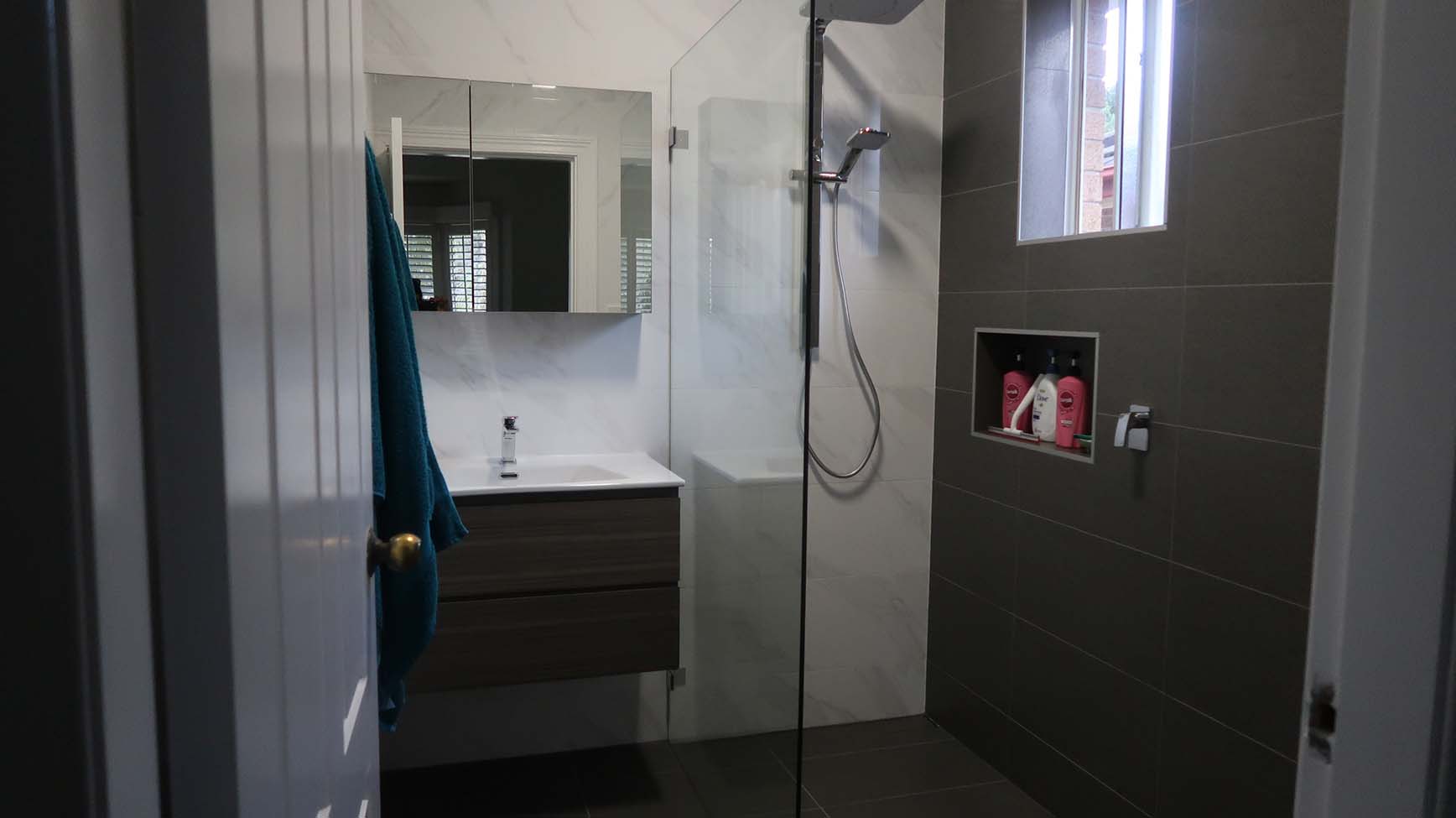 If you are planning to remodel a small bathroom in your home, there are various ways to achieve a stylish, pleasing interior update that makes the room seem larger and more open. Just because your bath is small in terms of its dimensions, there is no excuse for it to have dull, boring or outdated furnishings and decor.
You can select new fixtures, flooring and wall coverings that give the room a more expansive look while complementing its major features, shape, and size. Remember that light, airy wall and flooring colours and counter-tops will brighten your small bathroom, and hanging mirrors will also add reflected light. For the attractive rays and glow of healthy light from outdoors, your remodellings team may be able to install an attractive skylight.
Space-Saving Trends
Tile Limiting
Tile gets expensive, especially when you hire a contractor to lay it all out for you. To save money, limit the amount of tile and focus on high-impact areas like the floor instead of the shower stall walls. Alternatively, you could tile one horizontal strip along the wall and paint the rest. However, if you've got your heart set on tile that's artistic and expensive, use it as an accent alongside a cheaper tile. Not only will the artistic tiles be more noticeable, but you'll save a ton of money by only using a few here and there.
Get Creative on Countertops
A popular trend is to splurge on granite countertops. Because the bathroom counter is so small, the investment is often fairly low compared to what you'd spend on kitchen counters, for example. You can definitely save money on following a few budget friendly tips. First, look at the colour. Neutral colours like tan, brown, and light beige are more popular, which means they're more expensive. To save money, consider and price out a wider swath of colours.
Try Dresser Sinks
The trend is using old dressers as sink pedestals. You simply cut out the top of the dresser to accommodate a sink insert, cut into or remove interior drawers as necessary, and cut holes in the back for plumbing. These "dresser sinks" can sell for thousands of dollars in retail stores, but you can easily make your own with a budget dresser, some patience, and the right tools.
Repaint
If you don't have a lot to spend, then repainting will be the cheapest and, perhaps, the most effective way to give your bathroom a new look. It's going to take more time than you think. Your bathroom may be the smallest room in the house, but you're going to have to paint slowly and gently around the window, the tub or shower, the sink, the mirror, the toilet, the switch plates, the wall corners, and the floor. This takes time and patience and a good supply of painter's tape, so make sure you keep this in mind when planning your remodelling.
Another thing to consider is the moisture. Since mould and mildew develop easily in a bathroom, and humidity and temperature change often, it's a good idea to invest in high quality paint with a satin finish. You may also want to go over the ceiling with a special bathroom paint that helps resist the growth of mould.
Update Fixtures
You can update light fixtures, sink faucets, towel racks, and drawer pulls for a relatively small investment. These items may seem insignificant, but updating them can make a big difference in your bathroom's look. The items may be out of your price range but you can find ways to replicate the look for less.